Abdul Hannan
Situating North Bengal and the State
The distant location from its core is always a concern to any region, state and country. The periphery suffers from appropriate attention and better governance by the state in its own jurisdiction and citizens are denied of services and public deliveries. The North Bengal is a classic example. Since independence, it has not received expected response of state and it is state of status quo during COVID-19 global pandemic too. If we trace last 20-25 years, a fight of establishing circuit bench of Calcutta High Court became partially success only in March, 2019. It became operational and only four districts i.e. Darjeeling, Kalimpong, Cooch Behar and Jalpaiguri are included to this bench. Yet this is half settled and the districts of Uttar Dinajpur, Dakshin Dinajpur and Malda are yet to be plugged to the High Court bench situated in Jalpaiguri. Secondly, the Government of India sanctioned an AIIMS like health project at Raianj, Uttar Dinajpur in 2009. The project had approval of 960 beds alongwith 39 speciality and super-speciality disciplines, 100 seats for MBBS and postgraduate and doctoral courses, and a nursing college. The total project cost was sanctioned of Rs.823 crores under Pradhan Mantri Swasthya Suraksha Yojana (PMSSY). The state of West Bengal was expected to provide 100 acres of land and the basic infrastructure. The then health minister Surjya Kanta Mishra responded that we have already identified the land and will provide the infrastructure (The Telegraph: 06.02.2009). However, the central health project was shifted to Kalyani in district Nadia which is situated around 50 kms from Kolkata. The reason cited was non-availability of suitable land in districts of North Bengal and hence depriving the people of North Bengal from the central project. Though the region of North Bengal has weak health infrastructure, poor transport network, inaccessible geographies, the state government did not pay heed on it. It has geo-strategic importance and international borders in all directions from security perspective. It is again to be mentioned that UPA-II wanted to give the second AIIMS like health project and willing to establish one at Raiganj. Even then the ill-motive of the current government did not allow the proposal and the passage of the health project in North Bengal was not fulfilled. Conversely, it is to be stated that many closed tea gardens are lying vacant in North Bengal and thousands of acres of land is available to host such a health project if there is political will to provide better health infrastructure to the people of North Bengal. Therefore, it is to be seen in future whether Government of West Bengal and Government of India are really pushing again such precious AIIMS like health infrastructure in backwards areas of North Bengal or periphery remains stagnant and the process of internal colonization would continue.
COVID-19 Pandemic and Response of State
In this background, let us examine that during COVID-19 global pandemic how state responded to North Bengal districts and delivered health care facilities. As per ICMR Notification dated 24.03.2020, there were only two government laboratories situated in West Bengal and both were located in Kolkata only. As on 30.05.2020, there are 40 COVID testing laboratories were set up in West Bengal of which 29 are government sector and 11 are private laboratories (see table-1). Out of 11 private laboratories, 10 are situated in Kolkata urban agglomeration only and one in Durgapur. In North Bengal, there are only seven (7) laboratories out of which four (4) laboratories in Alipurduar, Jalpaiguri and Dakshin Dinajpur and Malda district hospitals are yet made functional though approved by ICMR. In South Bengal, there are 12 government and one private laboratories spread over different districts excluding Kolkata. The Kolkata urban has 10 government and 10 private laboratories. Therefore, if we consider the geographical spread of North Bengal as whole from actual distance point of view starting from Malda to Cooch Behar in plain areas (500 kms), and Darjeeling and Kalimpong the hill stations (400 kms) are covered by seven (7) laboratories only. In Darjeeling district, the only government laboratory is situated at North Bengal Medical College and Hospital at Sliguri. The two hill stations i.e. Darjeeling and Kalimpong towns have district hospitals but no effort is made to have testing laboratories till today. In contrary to that the state of Sikkim has developed two laboratories at district hospitals located at Gangtok for the approximate population of six lakhs. Similarly, Siliguri town has good numbers of private hospitals yet there is no private laboratory is established and no initiative taken so far.  At the same time, all the 11 private laboratories are situated in Kolkata (10) and Durgapur (1). In nutshell, the testing infrastructure is not satisfactory in North Bengal and periphery remains neglected by the state. Similarly, the district level data on COVID-19 was not available till 3rd May 2020 in West Bengal. On hearing bunch of Writ Petitions and PILs of 5328 of 2020 (Faud Halim), 5334 of 2020 (Vimal Khawas), 5335 of 2020 (Ritesh Tewari) and 5336 of 2020 (Raja Satyajit Banerjee), Hon'ble High Court of Calcutta ordered to monitor Bengal's steps in tackling COVID-19 outbreak and consequently, the Government of West Bengal started publishing district level information in health bulletin since 04.05.2020.
As on 02.06.2020, the COVID cases have increased to 583 in North Bengal during lockdown 4.0. The district-wise distribution is Uttar Dinajpur (173), Cooch Behar (149), Malda (144), Darjeeling (49), Dakshin Dinajpur (45), Jalpaiguri (15), Kalimpong (7) and Alipurduar (5). In response to this flare up cases, there are no COVID hospital developed in hill stations of Darjeeling and Kalimpong town. The Uttar Dinajpur has highest number of COVID cases but the COVID hospitals are situated in Raiganj only and Islampur subdivision is deprived though there is an existence of super speciality hospital. The arrangement of bed capacity is not developed proportionately in response to pandemic. If institutional quarantine facility is not improved despite knowing the reverse migration of workforce, situation may worsen in rural areas in North Bengal including the whole state. This reflects the pitiable handling the global pandemic and decentralized governance of the state. All these have bearings on health outcomes. Let say, the recovery rate is 37.9 percent in West Bengal as a whole (48.3 percent in India). But we look at regional level it is 24.7 percent in North Bengal, 37.1 percent in South Bengal and 42.1 percent in Kolkata urban agglomeration. The mortality rate is 5.2 percent in West Bengal (2.8 percent in India), 9.5 percent in Kolkata and 3.0 percent in South Bengal. However, the mortality rate is low in North Bengal as the COVID-19 cases reported here during lockdown 4.0. Therefore, the mortality rate is high in West Bengal in comparison to National Average and government of West Bengal must acknowledge the fact.
Table-1: District-wise COVID-19 Infrastructure and Outcomes in West Bengal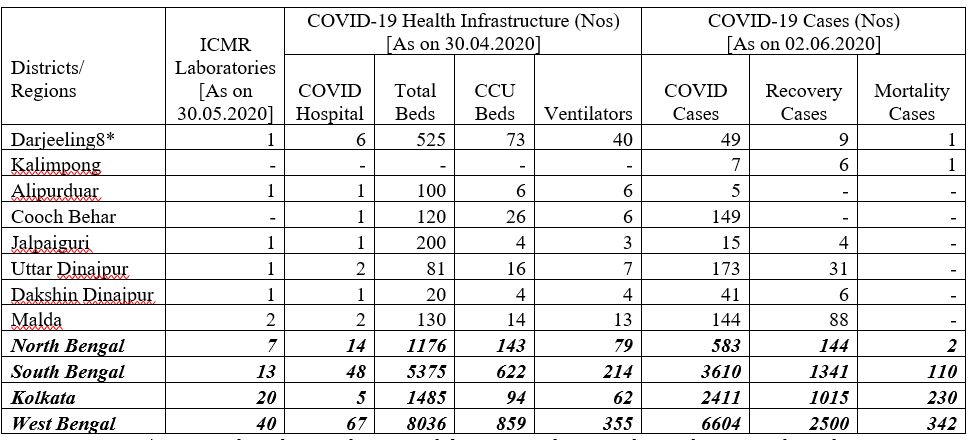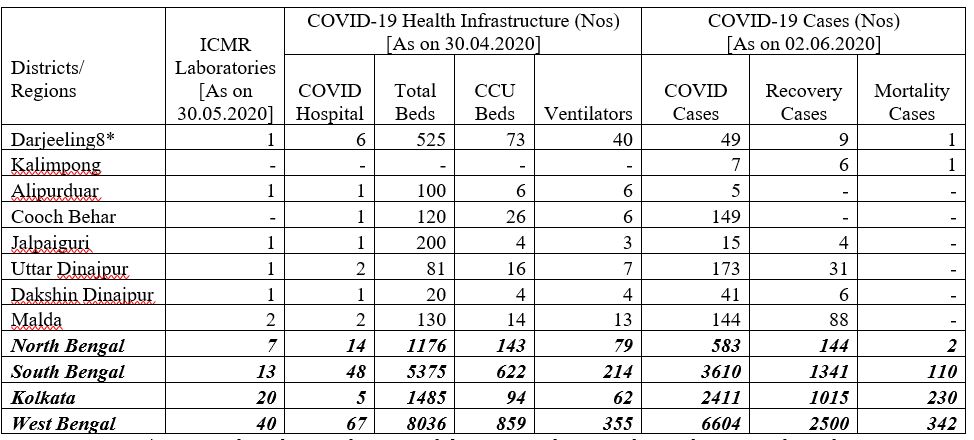 Note: *In Darjeeling district, the testing laboratory and COVID hospital is situated in Siliguri only.
Source: Computed based on ICMR Notification (30.05.2020). GoWB Notification (30.04.2020), Health Bulletin GoWB (02.06.2020)
Way Forward in Governing Health
The Government of West Bengal has appointed as Officer on Special Duty (OSD) to look after and liaison activities related to COVID-19 pandemic in districts of West Bengal (GoWB: 17.04.2020). The supervision and coordination of OSD has been questioned in different parts of North Bengal and yet to coordinate and establish testing facilities in towns of Cooch Behar, Darjeeling, Kalimpong, Islampur in North Bengal, despite having Medical College at Cooch Behar, District hospitals in Darjeeling and Kalimpong; and Super Specialty hospitals at Islampur respectively. Siliguri is an important commercial town and gateway of North-East and junction of all international borders. The OSD is grossly failed to take initiatives to set up private laboratories in Siliguri town where sizable numbers of private healthcare institutions are available. The North Bengal Medical College and Hospital is over-burdened and backlog samples from different parts of North Bengal districts are accumulated and results are delayed. Since migrant labourers have returned home from various parts of the country and Shramik Trains are destined in North Bengal too, the OSD could not visualize and establish institutional quarantines in different blocks and gram panchayats. So, the community transmission is inevitable in coming days. Therefore, it is a matter of grave concern that we already have district administration in all districts yet a superstructure is created by appointing an OSD for better results. Unfortunately, the outcomes have resulted reverse. There should be an immediate attention to set up private laboratories in Siliguri and government laboratories in district and sub-divisional hospitals in all districts including Cooch Behar Medical College and Hospital. Similarly, all District Magistrates should be given authority to establish and set up institutional quarantine centers in block and gram panchayats in all districts without further delay. Further, there is also North Bengal Development Department (NBDD) and separate ministry is also in existence to look after the region including UTTARKANYA the branch secretariat of Government of West Bengal. The effective decentralized coordination among all departments including Siliguri Municipal Corporation (SMC) is the need of hour during pandemic instead of whips and sermons executed from distant core from Kolkata.
The author is working as Assistant Professor, Department of Geography, Sikkim Central University, Gangtok and the comments and views may be sent at ahannan@cus.ac.in / ahannansku@gmail.com .
References:
The Telegraph (2009), AIIMS cousin for Bengal – Cabinet nod to Rs 823cr Raiganj Institute, published on 06.02.2009 [https://www.telegraphindia.com/india/aiims-cousin-for-bengal-cabinet-nod-to-rs-823cr-raiganj-institute/cid/500075 accessed on 02.06.2020].
Government of India (2020), ICMR Notification dated 30.05.2020, Department of Health Research, Ministry of Health and Family Welfare, New Delhi.
Government of West Bengal (2020), ORDER No. HFW-43011(20)/1/2020-ADMIN/A1398/1(16) dated 17.04.2020, Directorate of Health Services, Swasthya Bhawan, Kolkata.
Government of West Bengal (2020), Notification No.HF/SPSRC/20/2020/60 dated 30.04.2020, Department of Health and Family Welfare, Swasthya Bhawan, Kolkata.
Government of West Bengal (2020), West Bengal COVID-19 Health Bulletin dated 04.05.2020 & 02.06.2020, Department of Health and Family Welfare, Swasthya Bhawan, Kolkata.
https://timesofindia.indiatimes.com/city/kolkata/chief-justice-to-inaugurate-jalpaiguri-bench-on-mar-9/articleshow/67922020.cms [Accessed on 04.06.2020].