Gourab Ghosh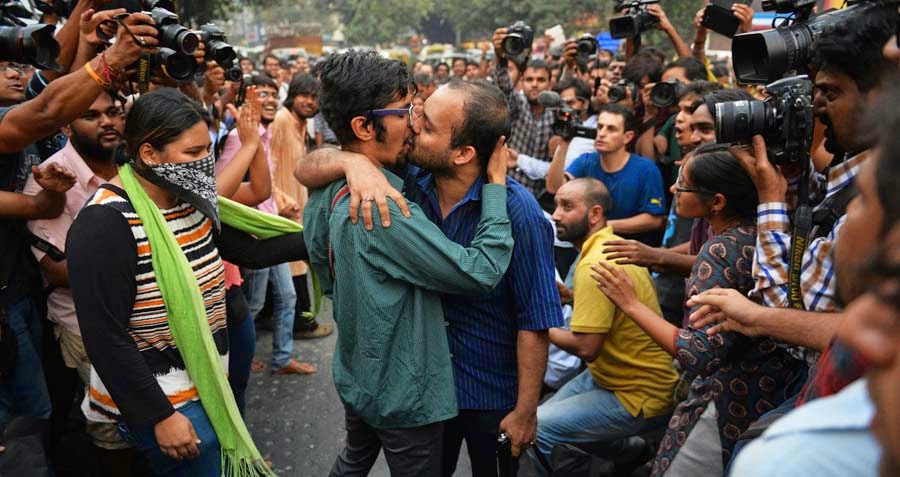 With the
Bengaluru Comissioner of Police M.N. Reddi's refusal to grant permission to the
city-based organizers of Kiss of Love to hold an event in the city in
solidarity with the string of events that have taken place in recent times,
beginning with Kochi, it is time again for us to think, discuss and act on
certain questions regarding the Kiss of Love campaign as a form of
'protest'. There has been a good amount
of discussion in academic circles, in the mainstream and the social media,
about the nature of this campaign. It has, by its seemingly 'sensational'
nature, even managed to become a topic of household conversation in
'developing' India. It is no surprise that the ultraconservative, fundamentalist,
patriarchal and right-wing section of commentators immediately said, "Why this?
Why indeed?"
For the
protesters who joined in solidarity in various parts of the country and for the
organizers who braved brickbats to put together these events, the question is
more than just why. The question is: "What next?"
The answer is
Bengaluru.
The answer to
the 'why' and the answer to the 'what next' is one and the same: Bengaluru.
India's 'Silicon Valley'. Presumably, the 'answer' to India's 'development'
problems.
The
uncertainty that now looms over the Bengaluru chapter of Kiss of Love with the
police commissioner's dismissal of the proposed event forces us to ask certain
questions that have repeatedly come up in conversations with the protestors,
with members of the broad Left and other progressive groups.
The forces on
the right in Bengaluru and their ilk all over the country have expressed an
inability to comprehend the agenda behind such an outlandish act of 'protest'.
The organizers, however, have a simple answer. Their platform, they said, is
not about the simple liberty to kiss in public. Their platform is one to raise
voices in unison against moral policing, against a fascistic government in the
Centre and its tentacles that reach out to choke independent voices, against
forces that snatch away the fundamental, Constitutional rights of freedom of
expression of the citizens of India. This
platform is against them. This protest is against them. This is why
so many young protesters have come out on the streets with the organizers of Kiss
of Love, in public places and in university campuses, to challenge the tyranny
of the patriarchal fascist moral policing of the Right. This, apparently, is
still 'not clear' to those leagues of "cultured Indians".
It is without
question that with his refusal, M.N. Reddi has also joined the league of those
august gatekeepers of "Indian culture", whose ranks include the
Chairperson of the Karnataka State Women's Commission, Manjula Manasa, who
termed the Kiss of Love campaign as "uncivilized", "contrary to
our culture", "obscene" and "western influence". Such
accusations, perhaps, were inevitable. We are all too aware of the existing angst
of this vocal section of the right wing forces that periodically issue such statements
on matters as banal as usage of mobile phones to the serious ones as honour
killings and caste oppression. What is interesting, however, is that the
Bengaluru city police has granted permission to organize a queer pride parade
in the city, but denied the same to a 'simple', 'innocent', 'harmless' campaign
to kiss (which is to walk, to sing,
to dance, to fly) on the hallowed streets of 'developed' Bengaluru.
The question then again becomes: "What
next?"
Bengaluru's
pride march is significant as it is the first such event in the city after the
Hon'ble. Supreme Court's infamous judgment of 11 December 2013 holding up the
archaic, obscene Section 377 of the IPC in Delhi and the rest of the country,
and thereby recriminalizing homosexuality in India. Pride marches stand
testimony to expressions of sexual freedom, of different human identities that
are erased and repressed and ignored by force. Pride marches create spaces to
express affection, love, care and solidarity. Pride marches resist, and they march
on even in the face of raised eyebrows and judgmental frowns that question the
very necessity of such an act of protest. Pride marches on, proud of its
history that spans decades and continents. Pride, now, has earned itself a
political legitimacy, and this is why
the Bengaluru Police must 'protect' and 'escort' the march—its mode of putting
forth its 'agenda' is an 'accepted' one, even it is one that continues to
rankle the Big Brothers who seek to govern this nation.
The
significance of this political legitimacy granted to the 'agenda' of Pride,
even by forces such as the Commissioner of Bengaluru Police—namely, the freedom
to voice one's identity based on gender and sexual orientation—cannot be
understood without recognizing the arduous legal, social and political battles
waged by activists over the last few decades in India. It is their tireless
activism that has now placed the battle for sexual rights in its rightful place
alongside the battles for social justice in many other fronts, from labour
rights to caste oppression.
Kiss of Love,
in comparison, has little in the way of political legitimacy. Its mode of
protest has appeared eccentric or 'sensational' to many. Its protesters, it has
been said from certain progressive factions, are 'not politicized enough'. Meanwhile,
the cultural and moral police, touting its aforementioned inability to
comprehend the "why" of the Kiss of Love campaign have raised its apocalyptic
visions of indecency and obscenity taking over the society at large. The straw
man that is the "youth" untaught in the ways of "conservative
and orthodox Indian values", in this rhetoric, appears to have opened a Pandora's
Box.
We cannot help
but ask a question to this league of fascists in response: who and what decides
on "obscenity"? How does expression of "affection" with consent, in a public place, become
a punishable offence under section 294(a) of IPC? And who drafts and crafts the
'imaginary' "Indian culture"? For these custodians of "Indian
values", there is nothing 'obscene' about men urinating in the open (in this
age of Swachh Bharat). There is
nothing 'indecent' about a 'responsible' husband publicly mistreating his wife
with the choicest verbal abuses, or a 'protective' brother beating up his
sister for voicing her opinion. There is nothing 'obscene' about politicians
and administrators rationalizing virulent misogyny in the name of 'boys will be
boys', or saintly 'men of god' molesting their female devotees. There is
nothing 'obscene' with ministers openly watching pornography inside the
Karnataka Assembly!
These are difficult
times, and the hydra-headed fascist, repressive forces raise their heads in
myriad directions in a multiplicity of ways. Kiss of Love is one of the many
acts of resistance against the same. When we ask ourselves "what
next?", we must recognize that times like these demand multiple ways of
contending with such sections, even ones that are conventionally 'not
political', seemingly light-hearted and tongue-firmly-in-cheek. We must
recognize that Kiss of Love has, in its own manner, has shaped a group of
like-minded fellow fighters. This is why when the Bharatiya Janata Yuva Morcha
activists vandalized a restaurant run by a Muslim youth in Kozhikode, arguing
that the young men and women who frequent the place are "destroying"
"Indian culture", a few created a Facebook group called "Kiss of
Love community" and turned up at the Marine Drive for protest. The first Kiss
of Love protest was against moral policing as the protestors held hands, kissed
on the streets and behind the bars. When the Shiv Sena, Bajrang Dal and Akhil
Bharitya Vidyarthi Parishad, and conservative Muslim political groups like the
Social Democratic Party of India and Sunni Yuvajana Sanghom with district level
activists of Kerala Student's Union beat up some of the protestors, the moment
asked, "What next?" The answer was another Kiss of Love solidarity protest
against moral policing and the tyranny of goons from these conservative
outfits. Every such Kiss of Love protest has started asking "what next?",
even as it's answered in another protest. These protests, whether spontaneous
or organized, hold a tremendous potential to mobilize people and to build the
strong resistance imperative to counter the fascist forces that are threatening
to overrun our time.
The question
raised by comrades from the progressive factions is far more serious, namely,
whether or not the mode of protest
upheld by the Kiss of Love protesters is "political enough", if such
a manner of protest can constructively contribute to the larger resistance
against the Right or if it is simply another neo-liberal gesture meant to
distract us from larger struggles. In response, we cannot help but repeat the
same point: the first Kiss of Love was organized against moral policing, and
every protest thereafter has carried the struggle forward. Kiss of Love is but
one front of the vast battlefield that is the resistance against Right wing
forces. Is it true that it has been largely limited to the big cities? Yes,
certainly, just as it is true that organizers and participants in the Kiss of
Love protests, for all that they are confined to a few metros and university
campuses, are youth from diverse backgrounds, youth who see through the sham
that is "Indian culture" as preached by the Right wing, youth who are
raring to march on, march on.
These voices
are important for future struggles, be they independently waged or fought
hand-in-hand with the broad Left. The outrage and scorn poured from both police
and the Right wing forces have galvanized them into action. These are difficult
and dark times, and there must be clamour. There must be noise. There must be
voices raised: of women emerging out of the domestic sphere clanging spoons on thalis, of the homeless and the
dispossessed half-submerged in water, of tribals embracing trees, of students
singing songs and of queer folks in masks as they clap their hands and walk in
pride. And yes, of youthful voices in the metros and university campuses,
rising up in protest and defiance. Let us not forget that they first raised
their voice owing to the immediate requirements of the moment, triggered by the
vandalization at Kozhikode. There is little doubt that there will be fellow
fighters like the so-called 'kiss revolutionaries' in the future again, calling
for protests on a diverse range of social, political, cultural and economic
issues, and progressive forces will have to respond to them with the nuance and
consideration they deserve.
As Brinda Bose
writes in an article on Kiss of Love, "There
is a bottom-line now that we must all begin our discussions from: that we are
no longer living in a left-liberal or even centrist-liberal country but are
caught in the vice-grip of an acute capitalist culturally-right-wing government
whose supporters are coming out of the woodwork in astonishing numbers. Once we
take this as given, and if we are agreed that the repression is unjustified, we
ought to perceive the dire need for micro-mobilization processes that up the
protest ante, if in multiple, diverse, dispersed forms." It is ironic that
the Right displays enormous flexibility and spontaneity in hitting back against
any and all who speak up against them, as evident in the manner in which they
employed traditional gundagardi along
with the social media to threaten the organizers and participants of Kiss of
Love. Perhaps there is something to be learnt from here: the fact that to
oppose such deceptive, protean forces of oppression, we must adapt ourselves.
The present time thus demands demonstrations, hartals, slogans, unions and yes, laughter and frivolous
kiss-filled protests from the youth that leaves the Right fuming and shaken to
the core; the present time demands everything
that will create solidarities among progressive sections of the society.
We do not know what will happen to the Bengaluru kiss of
Love chapter, we do not know what will happen to the protestors who will still
show the courage to come on streets against police, government and the Right,
we do not know what challenge lies next, we do not know what will happen to
Bengaluru now. The answer has to be Bengaluru, that we can say.
The fight grows more intense and challenging with each
passing day. We must revise, yes, and discuss and debate, but let there be
clamour! Yes, there must be clamour.
[Gourab
Ghosh is a Ph.D scholar at the Centre for English Studies, JNU, New Delhi. He
is an SFI and Queer rights activist. He has been a part of the Delhi chapter of
Kiss of Love and organised the JNU chapter of the campaign with other
fellow comrades. This article acknowledges the long discussions with fellow
comrades and fighters who have helped in shaping my writing: Arjun, Suresh,
Swati and Vikram.]