Dr. Nilanjana Paul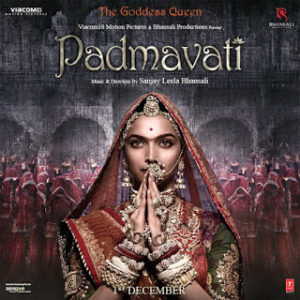 The release of the movie Padmavati,
directed by Sanjay Leela Bhansali, is the center of current debate between the Mumbai
film fraternity and Karni Sena of Rajasthan. Lokendra Singh Kalvi, founder of
the Shri Rajput Karni Sena called for Bharat Bandh
(All India Shutdown) if the movie is released on December 1. In the wake of the
threats, the release of the film has been postponed indefinitely by the
producers. Karni Sena,is a caste based Hindu organization, that claims to defend
the rights of Rajputs (patrilineal
clans associated with warriorhood). Karni Sena has a long history of opposing
movies such as the Jodha Akbar and
destroying the sets of Padmavati.
They claimed that the intimate scene between Rani Padmavati and Alauddin Khilji
went against the values and sentiments of the Rajput community. Since then a
lot has been written on Padmavati and
how it should be open to historical interpretation.This article aims to
problematize how both the movie and the opposition faced by it are part of the
larger Hindutva project to divide the country based on religion in an already
polarized situation.
Professor
Irfan Habib argues that Rani Padmavati was a fictional character and there is no
reference to her before 1540. Ramya Srinivasanin her book Many Lives of a Rajput Queen has shown that Sufi Muhammad Jayasi's Padmavat was composed in 1540 in Awadhi.
In the story, Padmavati was the daughter of Gandharvasen, the ruler of Singhal
(Ceylon or present-day Sri Lanka). She had a parrot called Hiraman. Padmavati
and Hiraman became friends but the king resented the friendship. He wanted to
kill the parrot. However, the parrot managed to escape the palace and was later
taken to Chittor (kingdom in Rajasthan) by a Brahmin. The King of Chittor,
Ratansen, heard about Padmavati's beauty from the parrot and wanted to marry
her.
Ratansen
was successful in his quest of marrying Padmavati and brought her to Chittor. A
Brahmin scholar expelled from the court of Chittor took the story to
Alauddin Khilji who then attacked kingdom. However, Ratansen had died fighting
another Rajput ruler even before the arrival of Alauddin. In this grief Padmavati
had immolated herself on the husband's pyre. Jayasi points out that Alauddin
had lost the battle even though Chittor became Islam.
Srinivasan
demonstrated that Padmavat has
undergone several mutations and translations between sixteenth and twentieth centuries
where the representation of Alauddin Khilji has attracted a lot of attention. His
portrayal to conquer Chitor and the surrender of Padmavati invoked the defense
of Rajput valor and pride. Rajput veerta
(chivalry) depended on the ability to protect the women. The effort to
historicize Padmavat has turned
Jayasi into a defender of Hindu culture, sati (widow-burning),
and masculinity.
The trailer of Padmavati
and Islamophobia
The trailer of Padmavati
has again reminded us of the horrors of Muslim representation in Bollywood
films. In the trailer,Alauddin Khiljii's an aggressive and ruthless ruler. In
sharp contrast, Professor Irfan Habib has demonstrated that Alauddin Khilji's
territorial expansion was associated with the expansion of fiscal resources.
Tax rent was imposed over a large area and fiscal claims of hereditary
intermediaries (chaudhuris) and
village headmen (khots) were heavily
curtailed. The tax grain was so large in quantity that by controlling its
supply and price, he was able to control the prices of commodities in Delhi. Moreover,
the ruling elite included people outside Turkish origins and Alauddin exercised
complete control over religious scholars. Chronicler Barni lamented that sharia (Islamic law) was no longer
followed in governing the country. Srinivasan argues that it was only in the sixteenth
century that Alauddin's conquests were actively constructed in Rajput memory. Several
recent writings on the film Padmavati
has overlooked how the valorization of Rajput culture created a strong
environment of portraying the medieval period as oppressive and barbaric.
Padmavati
is not the first film that has stereotyped Muslims. After the Babri Masjid
demolition in 1992 followed by 9/11, several Hindi movies such as Zameen (2003) and Dhokha (2007) established a strong relationship between Islam and
terrorism.  Fanaa (2006) and Kurban
(2009) depicted Muslims as having beards, being terrorists, and homes in Muslim
localities usually have the Pakistan flag. Deepa Kumar argues that post 9/11
Islam is equated with religious hysteria and terrorism.  In India, Bollywood has further solidified
that image by portraying Islam negatively and Muslims as terrorists. Recently,
even regional movies such as Zulfikar,
made in Bengali, stereotyped Muslims for being criminals and engaging in
smuggling activities.Hindus and Muslims
have been portrayed as mutually exclusive religious groups always at war with
each other. To quote HarbansMukhia "All we have right now are loud screams on
TV channels and periodic declarations by non-historians that all history has so
far been a distorted version."1
Colonial Legacy, Hindutva, and the World's Largest Democracy
The
controversy over Padmavati shows how communal
conflict, a legacy of British rule, haunts us even today. Barbara Metcalf argues
that nationalist historians found it useful to accept the periodization of
Indian History by the British. The Indian Golden Age followed by oppressive
Muslim rule provided a sense of Hindu cultural pride. Furthermore, the history
of Muslims has been reduced to words such as "fanatic" "militaristic," and
"monolithic."After the Babri Masjid demolition, Bal Thackeray of Shiv Sena said
"if Muslims behaved like Jews in Nazi Germany, there would be nothing wrong if
they were treated as Jews were in Germany."2 Muslims have been openly
demonized, and the notion of a secular past have been consciously subverted to
portray Muslims as enemies of Hindus. The community oriented identity politics
that emerged under colonial rule only helped Vishwa
Hindu Parishad (right wing Hindu organization) and Sangh Parivar leaders to
sharpen their trishuls (three wedged
sword).
The glorification of Rajput valor in
Padmavati 
have
paved the for the celebration of both 
jauhar

(self-immolation) and
sati
. After eighteen-year-old
RoopKanwar (in pic beside) was burned on her husband's pyre in Deorala, a village in Rajasthan on
September 4, 1987, the members of the Bharatiya Janata Party (right wing Hindu
group) argued that they would oppose any law that prevented Rajputs from
upholding such traditions. Vishwa Hindu Parishad chanted slogans such as "
Desh Dharam Ka Nata Hai Sati Hamari Mata Hai
"
(Sati empowered Hindu women and was glorified as a mother).
3 
Huge
sets, cinematic locations, extravagant clothing and jewelry, stellar
photography only indicates the complete amnesia about the lives of women living
in a tradition bound society.
In
2014, the world's largest democracy voted the Bharatiya Janata
Party to power in the hope of economic growth. Since its election to power,
the government has unleashed terror on the Muslim minority population in the
form of beef ban, arrest of a Muslim doctor for treating children in a government
hospital in Uttar Pradesh that lacked oxygen cylinders, and criminalizing
dissent. In a communally polarized situation, the film Padmavati solidifies the differences between Hindus and Muslims
instead of glorifying a secular past. It also strengthens the neo-patriarchal
offense against women.
The
film has been banned from releasing in five states of India. The system of
banning a film's release is a threat to the freedom of creativity, expression,
and an attack on democracy. Intellectuals have opposed such threats but there
has been no attempt to engage with issues such as caste oppression, demonizing
minority population,violence against women, and wealth inequality. Moreover,
the film is produced by Mukesh Ambani, the richest man in India, whose wealth
increased by $800 million dollars after BJP came to power. Last time I watched
a Sanjay Leela Bhansali film Devdas, I
cringed seeing inappropriate depiction of the characters on screen. The
controversy over a fictional character has further allowed the Hindutva power to
follow a cultural war of distraction and a policy of divide and rule in an
environment of material hardships and mass unemployment stalking the people of
India under "Acche Din." (Good Governance Days)
(The author is an Assistant Professor of History at University of Texas Rio Grande Valley, USA.)
Harbans Mukhia,
"Stories of a Rajput queen." The Indian
Express, November 17, 2017.
Barbara
Metcalfe, "Too Little and Too Much: Reflections on Muslims in the History of
India,"The Journal of Asian Studies
54 (1995) 963.
Madhu Kishwar,
Ruth Vanita, "The Burning of RoopKanwar." Manushi India 42-43 (1987), 17.

http://www.manushi-india.org/pdfs_issues/PDF%20files%2042-43/15.%20The%20Burning%20of%20Roop%20Kanwar.pdf

(accessed November 26, 2017)

Netty Ismail,
"Mukesh Ambani leads billionaire gains on Narendra Modi's lead." Livemint May 14, 2014.
1.

 
Habib, Irfan.
Medieval India: A Study of a
Civilization. New Delhi: National Book Trust, 2008.
2.

 
Kumar, Deepa.
Islamophobia and the Politics of Empire.
New York: Haymarket Books, 2012
3.

 
Metcalfe,
Barbara. "Too Little and Too Much: Reflections on Muslims in the History of
India," The Journal of Asian Studies
54 (1995) 951-967.
4.

 
Srinivasan, Ramya.
The Many Lives of a Rajput King: Heroic
Pasts in India 1500-1900. Seattle: University of Washington Press, 2007