Saqib Khan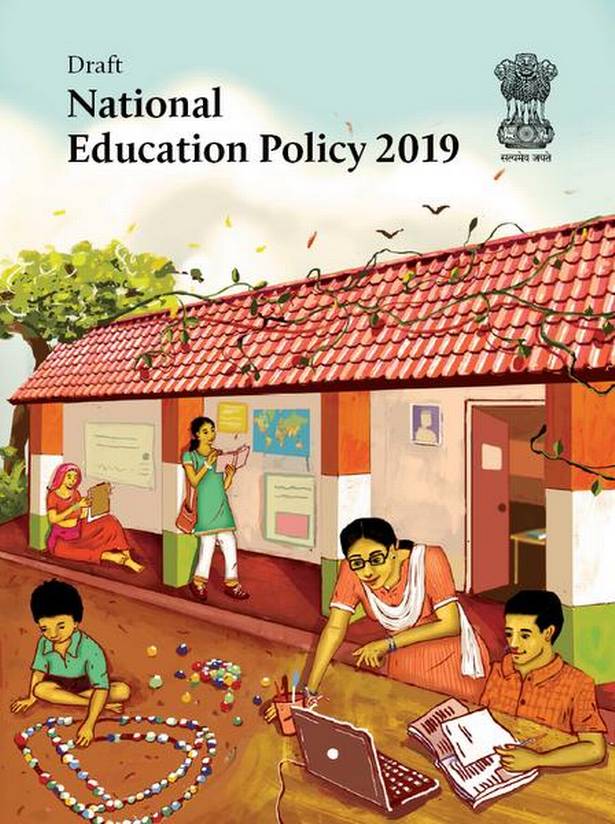 The recent furore over the three-language formula has seen an intense scrutiny of the recently released
Draft National Education Policy (NEP) 2019 [1].
The NEP remains an important action-plan for
education and it provides a direction to the development of education in India [2].
This article is a modest attempt to highlight some of the key aspects and concerns from the Draft. In some ways, the Draft NEP 2019 takes the agenda of the 2016 Draft forward, while making a departure from it in few other aspects [3].
While it suggests some important changes in the school education system, it is in the higher education system that the ideological and political moorings of the Draft are clearly visible. The article argues that the restructuring of the higher education system as recommended seems to be a push towards centralization and further privatization, and the Draft assigns larger role of private activity in overall funding of education than public investment. While the Draft has a grand vision to transform Indian education system in an equitable way, its recommendations seem to go in an altogether different trajectory and there seems to be a mismatch between the two.

 
Extension of the RTE Act to include pre-primary and secondary education
The Draft NEP 2019 puts emphasis on Early Childhood Care and Education (ECCE) or pre-school education. It is argued that there is a severe learning crisis in India, where children are enrolled in primary school but are failing to attain even basic skills such as foundational literacy and numeracy. A major part of this crisis appears to be occurring well before children even enter Grade 1. Far too many 6+ year olds are entering Grade 1 with very limited ECCE. Therefore, the Draft suggests that free and compulsory ECCE be included as an integral part of the RTE Act, that is, three years of early childhood education prior to Grade 1. And all aspects of early childhood education would come under the purview of the Ministry of Human Resource Development
(
MHRD). Similarly, it suggests that free and compulsory quality secondary education (Grades 9-12; ages 14-18) also be included as an integral part of the RTE Act.

 
Now, it must be remembered that the 2016 Draft too had recommended that the early childhood education for children from 4 to 5 years of age should be declared a Right and a programme of pre-school education should be implemented. However, the question remains whether there is political will to implement the extension of RTE Act to include pre-primary and secondary education under it, especially when considering the fact that it took almost six decades after independence for the education of 6-14 years to be made a Right (Khan 2016).

 
Review of RTE Act with respect to Section 12 (1) (c)
A problematic aspect related to school education in the 2019 Draft is the proposal to review Section 12 (1) (c) of the RTE Act. This particular section of the Act mandates private unaided and non-minority schools to provide free education to at least 25 percent children belonging to disadvantaged groups and weaker sections admitted to class I. The Draft says it will review this section as it interferes with the autonomy of institutions and it has been poorly implemented. At the same time, however, it also says that if the review suggests that Section 12(1) (c) be kept as it is, then it must be better enforced and lists out a number of steps for doing so. One wonders then at the need for reviewing it and instead the same steps could be followed to enforce and strengthen this provision. Section 12 (1) (c) is an important element of the RTE Act and the government should desist from any attempt to dilute this provision. Its importance has been pointed out by the Supreme Court itself. While upholding the constitutional validity of the 25 percent reservation, the Supreme Court in its 12 April 2012 judgment had observed that Section 12 (1) (c) provided for "level playing field in the matter of right to education to children who are prevented from accessing education because they do not have the means to pay for their fees" (p. 24) [4].
Replacing 10+2 system with 5+3+3+4 design
A radical change suggested by the Draft is to replace the existing 12 years of the 10+2 system with 5+3+3+4 design. The initial 5 years would be the foundational stage (3 years of pre-primary school plus Grades 1 and 2), 3 years of preparatory (or latter primary) stage (Grades 3, 4 and 5), 3 years of the middle (or upper primary) stage (Grades 6, 7 and 8) and 4 years of the high (or secondary) stage (Grades 9, 10, 11 and 12). However, a look at the Policy tells us that this radical restructuring of the school education is contingent on brining the pre-primary and secondary education as part of free and compulsory education by the government.

  
Three-language formula: Re-igniting the storm
The Draft NEP 2019 reaffirms its commitment to the implementation of the three language formula, followed officially since the adoption of the National Policy on Education 1968, and endorsed in the National Policy on Education 1986/1992 as well.

 

It is commonly understood that the three languages referred to are Hindi, English and the regional language of the respective States. However, what created a political furore was a paragraph in the Draft NEP 2019 that referred to the mandatory teaching of Hindi in States where Hindi is not spoken. This provision was bitterly opposed by states like Tamil Nadu that follow a two language formula and saw it as an attempt to impose Hindi.

 
It should be known that this provision arose from the attempts of the NPEs 1968 and 1986 to push the development of Hindi as the link language in the country. However, the 2019 Draft by not making any departure from it indicates that somehow teaching Hindi in non-Hindi states remains an agenda for central governments even today.

 

By doing so, the 2019 Draft also ignored the fact that the friction between attempts to push Hindi as the link language and southern states like Tamil Nadu is more than five decades old. It also indicates that while calling for the implementation of three-language formula, the central government seems more interested in teaching Hindi in non-Hindi states than teaching languages from other parts of India in Hindi-speaking states. It was only the protest of Tamil Nadu and the Central government's intervention that the reference to Hindi was dropped and the sentence was rearranged (Venkataramanan 2019).

 
Secondly, the Draft places emphasis on teaching multiple languages. While it is welcome suggestion, the practical aspect of its implementation raises questions. Out of 1.4 million schools imparting elementary education, most impart education only in their mother tongue and a small percentage of these teach English. Assuming one teacher would be needed to teach one language, it would take at least one million English teachers and another one million teachers in other languages to implement this Policy (Thummarukudy 2019). Finding teachers for the third language especially would be a challenge. Given the situation where India still has more than 90,000 single teacher schools, the big question is if the single teachers would teach English as well as other languages. To put it simply, will the government recruit so many teachers to actually implement three-language formula in spirit across the country?

 
Large multi-disciplinary HEIs: Push towards centralization
In order to address many of the problems faced by higher education, the Draft NEP 2019 emphasizes on moving the higher education to large multi-disciplinary Higher Educational Institutions (HEIs). Single-stream HEIs will be phased out, and all single-stream HEIs will move towards becoming multi-disciplinary. And by 2030, all HEIs will develop into one of three types of institutions: research universities, teaching universities and colleges. The plan is to have less institutions but bigger in size than more institutions having small size (p. 206-207). The reasons cited for such a restructuring of higher education include "fragmentation and small size of HEIs currently in the country". And the Draft sees "early specialisation and streaming of students into disciplines" as a concern therefore recommends multi-disciplinary as an anti-dote.

 
The plan to have bigger HEIs in size but which are lesser in absolute numbers is a push towards centralization of higher education. It becomes even more evident if we read the following line with regard to the restructuring of higher education: "The overall higher education sector will be integrated into one higher education system" (p. 213).
Secondly, one wonders how a 'one-model-fits-all' approach of having "multi-disciplinary" institutions will tackle the other challenges currently facing India's higher education system as cited in the report, like lack of access and lack of teachers. The Draft also assumes, for example, that the multi-disciplinary HEIs will automatically take care of the lack of research at most universities and colleges- one of the challenges currently facing India's higher education system that the Policy cites.
Ivy League model and largess to private HEIs: Further push towards privatization
The Draft NEP 2019 sees Ivy League schools of the US as the model for restructuring of higher education into multi-disciplinary HEIs imparting liberal arts education. The term "Ivy League" refers to a group of eight private universities located in the northeast of the USA and are known for being the most elite institutions of higher learning in the country (Luce 2019) [5].
Being private entities, annual tuition fees at the Ivy League universities range from $ 47,000 to more than 50,000 (Luce 2019). And often students have to take the recourse to loans. Studies have shown that the history of admissions at the Ivy League universities like Harvard, Yale and Princeton is a history of elite dominance and graduates of these three universities have always been over-represented in the American elite (Karabel 2005: 3-6) [6].
A 2017 study has
revealed that Princeton, Yale, Dartmouth, Pennsylvania and Brown Universities have more students from the top 1 percent of the income distribution than from the bottom 60 percent. In practice, Ivy League admissions demonstrate little preference for poor and working-class students (Karabel 2019). Despite financial aid packages and scholarships for students with low incomes, most needy students at these universities are still expected to contribute a modest portion of their support through
work-study jobs on campus (Espenshade and Radford 2009: 7).

 
So, this is the model of higher education proposed by the Draft. It also explains the largesse bestowed upon the private institutions in the Draft. It has been proposed that the government would treat the private HEIs on par with public institutions and empower them equally. And they would have equal access to National Research Foundation (NRF) funding for research support as public institutions [7].
Besides, the NRF would not only encourage research in HEIs and take care of research requirements of government, but also research requirements of industry and other organisations. Now consider the similarity with the Ivy League which is a group of private institutions. A 2017 report has shown that in the six fiscal years between 2010 and 2015, a full $41.59 billion of the Ivy League's money could be traced back to taxpayer-funded payments and benefits.
In fact,
the average amount of money that the eight Ivy League schools received annually over that time period — $4.31 billion — exceeded the amount of money received by 16 of the 50 states (The Daily Pennsylvanian 2017). The League receives money from the government for a number of purposes- one of them being research projects for which it receives millions in federal grants (ibid.).

 
Though the Draft laments the dismal state of research and innovation in India and its objective is to inculcate a culture of research and innovation in HEIs, it proposes to do so through a model which is private-university centric. By placing the private HEIs on an equal footing with the public institutions in terms of empowerment and government funding, it strengthens the role of private players in higher education and is a push towards its privatization.
'Internationalisation of higher education': Facilitating entry of international students and foreign universities
The Draft expresses concern over India not being able to attract international students. And it suggests approaches to promote internationalisation of higher education, which includes starting courses attractive to foreign students (like Ayurveda, yoga, etc) and funding these, institutional collaborations, facilitating entry of international students and researchers, research collaborations, etc. One of the approaches cited by it that can have important consequences for the Indian higher education is inviting foreign universities into India, for which a legislative framework will be put in place. Thus, in the name of "internationalisation", the Draft attempts to open the doors for international students and foreign universities.
It should be noted that this is not the first attempt at allowing foreign universities into India. The UPA-I had brought a bill in 2007 to regulate the entry and operation of foreign universities in India. It again brought a revised version of this bill in 2010, but it lapsed. In 2016, NITI Aayog had submitted a report to the Prime Minister's Office (PMO) and the MHRD calling for the invitation of foreign universities to set up campuses in India.

 
One of the main problems with the entry of foreign institutes is the fear that the cost of education would become very high and it would get even more out of reach of a large section of the Indian population. This is because the main aim of the foreign universities to establish their campuses in India would be for revenue or profit making.

 
Secondly, a common justification given by Indian higher education policy-makers for allowing foreign universities is that such a move would invite the top universities in the world to set up campuses in India. The Draft NEP 2019 too says that those among the top 200 universities in the world will be permitted to operate in India. However, global experience shows that the large majority of higher education institutions entering a foreign market are not prestigious universities but rather low-end institutions seeking market access and income. Top universities may well establish collaborative arrangement with Indian peer institutions or study/research centres in India, but are unlikely to build full-fledged branch campuses on their own (Altbach 2010b). Secondly, foreign universities do not enter an overseas market to provide a guide to "best practices" or to stimulate reform. They come for quite specific purposes – often to earn a profit by offering popular degree programmes, or to engage in exchanges and collaborations of various kinds. There is little likelihood of a significant expansion of access (Altbach 2010a).
Funding of education: Focus on private philanthropy and deferring the 6 percent of GDP target

 
One of the first noticeable aspects with regard to funding the education is that it is not part of the main Draft; it is included in the addendum [8].
Funding is one of the most crucial factors to implement any policy. But it is surprising that unlike other Drafts in the past, the Draft NEP 2019 considers 'funding' more in the nature of guidelines for implementation and not directly part of the Policy. And like the 2016 Draft, it says nothing about cuts in higher education budget in recent years.

 
The most glaring aspect of funding in the Draft is that
the non-public source of funds- "private philanthropic activity"- is discussed before public investment on education. There is a long section and focus on private activity, particularly philanthropic, in funding education and the Draft does not see 'public' and 'private' at odds with each other. In fact it goes a step further and calls for establishment of new private institutions by the government for funding. Private philanthropic funding will also be channelized towards critical needs of existing institutions. And it identifies Corporate Social Responsibility (CSR) of business houses and PSUs, alumni and local communities as the sources of such funding.

 
It must be kept in mind that though CSR activities have been made mandatory under the Companies Act, 2013 by the Government of India in April 2014, in the absence of an enforcement mechanism or penalties for non-compliance, "mandatory" CSR remains largely voluntary in nature (Karnani 2016; Kundu 2018) [9].
With this mandatory clause, many companies are basically classifying their activities as CSR with no real change in social welfare. Even if there is a real increase in socially beneficial activities, the spending on activities is mostly determined on the basis of the companies' preference rather than the priorities for the sector or people or area of interventions (Kundu 2018). Moreover, a fundamental question to ask is- why should funding of education be left to private philanthropy, CSR activity or alumni? It must be the government's responsibility to determine a high-priority need of society like education and make public expenditure towards it. With the focus on private philanthropy and CSR activity, the government seems to abdicate its primary function of funding country's education. Like the 2016 Draft, this step too seems to be aimed towards a reduction of government's role in the funding of education.

 
As for the public investment on education, the Draft makes
no concrete and specific commitment except suggesting an increase in overall public investment on education (by both Central and State governments) in the coming years.
However, it marks an important departure from the earlier NEPs. The earlier NEPs as well as the 2016 Draft had recommended that the outlay on education should be raised to at least 6 per cent of GDP with immediate effect (Khan 2016). The 2019 Draft makes no such recommendation. It sees the commitment of 6 percent of GDP as public investment in education as a "mid-to-long term possibility" and instead focuses on "short and medium term goal" of raising overall public expenditure (Centre and States) on education from the current 10 percent to 20 percent of all public expenditure over a 10-year period (p. 406) [10].
The assumption is that rapid economic growth and increase in the size of Indian economy would lead to a rise in public investment in education.
If the 2016 Draft had taken an uncritical view of the past and glorified certain religious traditions, the 2019 Draft encourages the "continued involvement of religious institutions in national educational activities". While religious institutions have the constitutional freedom to run their educational institutions, any direct involvement of the State with these must be called out. This encouragement to religious institutions is also somewhere linked to the fact that in a document of 484 pages, the word 'secular', 'secular education', or 'secularism' does not appear even once. For a society riddled with obscurantism, religious and caste fanaticism, violence, and superstition, the earlier NEPs had at least something to say to eliminate these through education; the 2019 Draft makes no such reference.

 
This article looked at some of the key points from the Draft NEP 2019. The Draft suggests radical reforms in school education, but leaves several questions unanswered. The extension of the RTE Act to include pre-primary and secondary education is welcome, but it will need political will to implement it. Section 12 (1) (c) is an important component of RTE and any attempt to dilute it must be desisted. The Draft continues to toe the line of the previous NEPs on three-language formula. The furore over mandatory teaching of Hindi suggests that the government remains keener on teaching Hindi in non-Hindi states than teaching languages from other parts of India in Hindi-speaking states. Questions of its practical implementation also remain.

 
With regard to higher education, the "one-model-fits-all' approach of having "multi-disciplinary" institutions to tackle the challenges of India's higher education system is questionable and is a push towards centralization of higher education. To propose a private university-centric model like the Ivy League as the 'model' for Indian higher education indicates a push towards privatization. In the name of 'internationalisation of higher education', the Draft has made an attempt to facilitate entry of international students and allow foreign universities to set up campuses in India which will further take away higher education from the reach of a large section of the Indian population. Global experiences contradict the justifications given by Indian higher education policy-makers for allowing foreign universities. By giving prominence to
non-public source of funds, that is "private philanthropic activities" like the CSR, the Draft has made it clear that the private sector will have an increasing say in the funding of education; the agenda of public-funded and secular education has been pushed to a corner. Overall, though the Draft NEP 2019 has a vision to transform the education system and our nation
into an equitable and vibrant knowledge society, the path it suggests seem to contradict this vision.

 
Notes  
[2] 

The first such policy was formulated in 1968, while the second one in 1986 which was later modified in 1992. 
[3]

The 2016 Draft referred here is the draft report by the "Committee for the Evolution of the New Education Policy" (headed by T. S. R. Subramanian) which was constituted on 31 October 2015 and submitted its report to the MHRD headed by Smriti Irani on 30 April 2016. The Draft NEP 2019 referred here is the report by the committee (headed by K Kasturirangan) which was constituted on 24 June 2017 for preparation of the Draft National Education Policy and submitted its report to the HRD minister Prakash Javadekar on 15 December 2018.
[5] 

These eight universities include Brown University, Columbia University, Cornell University, Dartmouth College, Harvard University, University of Pennsylvania, Princeton University and Yale University.
[6] 

Using evidence from the archives of Harvard, Yale and Princeton in this work, American sociologist Jerome Karabel has chronicled the admissions policies of Harvard, Yale, and Princeton over the course of the twentieth century, describing the shift from objective academic criterion to more subjective ones in their admission policy in the
1920s.
[7] 

The Draft proposes the setting up of National Research Foundation (NRF) through an Act of Parliament in order to inculcate a culture of research and innovation in HEIs. The NRF would competitively fund research in various disciplines through "competitive, peer-reviewed grant proposals" (p. 269-270). 
[8] Addendum is

an item of additional material added at the end of a book or other publication. 
[9] The Act requires companies with an annual turnover of Rs. 1,000 crore and more, or a net worth of Rs. 500 crore and more, or a net profit of Rs. five crore and more to spend at least two percent of their average net profit during the three immediately preceding financial years in a few focus areas such as education and skill development (Kundu 2018). 
[10] According to the 2019 Draft, public expenditure on education in India was 2.7 percent of GDP in 2017-18. 
References
Altbach, Philip G. 2010a. 'Open Door in Higher Education: Unsustainable and Probably Ill-Advised', Economic and Political Weekly (EPW), 45: 13, March 27, pp. 13-15

 
Karabel, Jerome. 2005. The Chosen: The Hidden History of Admission and Exclusion at Harvard, Yale, and Princeton. Boston: Houghton Mifflin


Thomas J. Espenshade & Alexandria Walton Radford. 2009. No Longer Separate, Not Yet Equal: Race and Class in Elite College Admission and Campus Life. Princeton, New Jersey: Princeton University Press