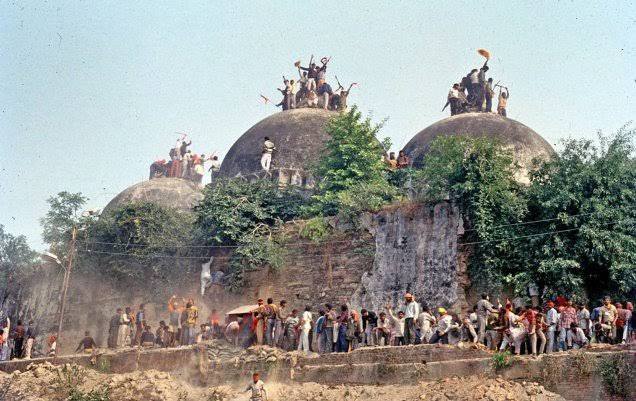 The Nirmohi Akhara of Ayodhya was one of the plaintiffs in the court cases related to Babri Masjid. The Ram Chabutra (platform) erected in the yard of the Mosque was under their control from 1856-57. This was propagated by them as the site of Ram's physical origin. As worshippers they claimed the chabutra had been Ram's birthplace since eternity and no Mosque ever existed there; the Muslims simply took control of the land and changed the original structure. A few days ago, the Supreme Court has pronounced its judgment. Even after this, some people are joyously claiming it is now possible to build a Ram Temple there because the Mosque no longer exists. In this context, we must clearly state that Babri Masjid was in existence, exists in the land of our thoughts and will exist there forever. This is not the opinion of a particular religious community. After this judgment, those of us who are atheists are also being forced to say this. We can never consign it to oblivion.
Rabindranath had said the land of the poet's thoughts is truer than Ayodhya. This is applicable not just to Balmiki but also the Rashtriya Swayamsevak Sangh. We know this since the court cases began in 1950. Having occupied the land of Babri Masjid, they have viciously spread systematic hatred in the land of our thoughts in a pure corporate style. To regain foothold in that lost land saturated by toxic propaganda has become the condition of our existence. That is why we must believe that Babri Masjid exists. After everything that has happened, Babri Masjid is no longer a place of worship of a particular religion. It is rooted in our blood which flows from the search for freedom at the heart of India's struggle against colonialism. It is attached to the fabric of the Constitution of a Secular Republic.

 
Memory is a source of history. So is erasure. Unless one forgets, one cannot move forward and we remain trapped in the cycle of old trauma. Yet, traumatic memory can also lead us to a new road. Those bent on completing the destruction of the Babri Masjid by using the Supreme Court verdict are telling us we should forget the Mosque vs Mandir debate and devote ourselves to 'nation-building'. Most political parties, including the ruling party in West Bengal have accepted this logic and are not at all worried by its consequences. That is precisely why we must remain convinced that the Babri Masjid exists; it exists in the land of our thoughts which the merchants of terror and hatred have not been able to capture.
If Babri Masjid ceases to exist there, the plural history of India will disappear. The Constitution will vanish. The tested coexistence of working people who own nothing except their labour power will be erased. Their brave fight for the right to food and education will crumble. If Babri Masjid ceases to exist, Sanchi and Ajanta will perish too. Rabindranath's writings, Nikhil Banerjee's sitar recital, Ramkinkar Baij's sculpture of labourers heading to the mills will be forgotten. Vidyasagar, Jyotiba Phule, Bhagat Singh will become statues coated in vermillion and sandalwood, objects of grotesque worship, their words drowned by the loud conch shells. The university campus will become a playground of cheats and frauds. Adivasis will be evicted from their homelands.

 

The islands of Sundarban will sink into the saline water of the sea. The social formations that create layers of soil with drinkable groundwater underneath will be contaminated with arsenic and turn toxic. Every day in the cities, Govind Pansare and Gouri Lankesh will be murdered.
Many may think, how is it possible for so many things to happen just because a Mosque no longer exists. They may say it wasn't even the foremost example of contemporary Mosque architecture, never a significant site for pilgrims or voyagers to visit, sidestepped by history and archaeology. Yet the unique features which this Mosque perhaps did not possess in its early history, has been unintentionally thrust upon it by those who have destroyed it. The symbolic aura that surrounds it now is in the land of our thoughts; having been physically destroyed, Babri Masjid is now far more compelling; it has transcended its previous existence as an old Mosque. For this Mosque holds the key to the future survival of India as a country and the many facets of its society. The Mosque still exists because the best in us is not yet dead. Babri Masjid exists-must continue to exist-because we do.
The author is President of All India Democratic Women's Association (AIDWA)
(This piece was originally published in Ganashakti and was translated by Suchetana Chattopadhyay)