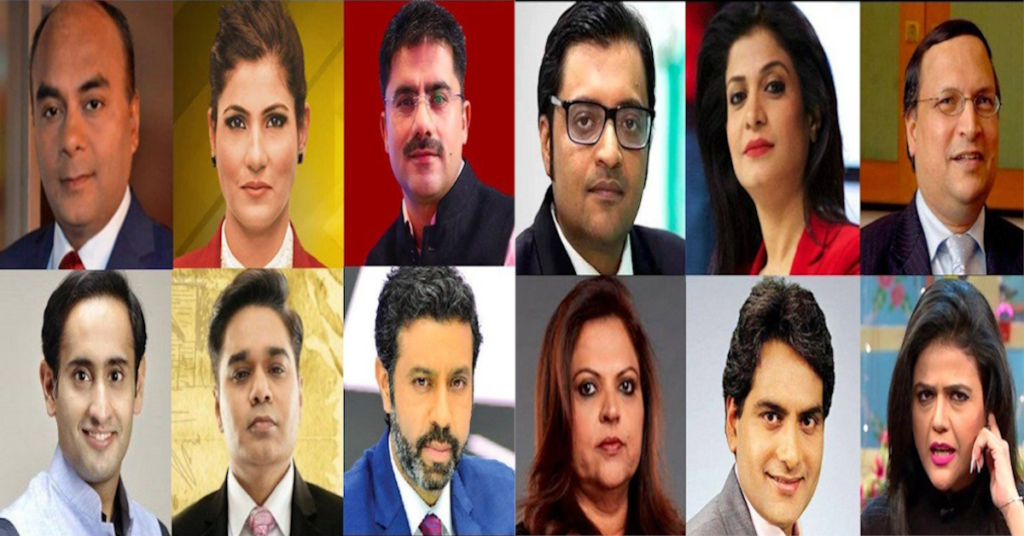 How it is that the country's highest court finds it convenient to go against its mandate to protect the constitution and instead protects those who violate it? What makes it perfectly fine for the police to implicate a human rights activist, Harsh Mander for criticising the police and the court for not doing their duty and provide protection to those who have been clearly responsible for large scale violence? What makes the culprits of Delhi violence the hero and heroes as villain? Answer to all these questions is one: Hindi media.
The events leading to the violence in Delhi is clear. On 23 February BJP leader Kapil Mishra led a mob at an anti-CAA protest site at Jaffarabad in North-East Delhi and issued an ultimatum to the protesters asking them to vacate the place within three days or face the consequence. All this happened in the presence of the police. Within few hours after his ultimatum a large mob attacked one of the protests sites pelting it with stones. This began a chain of events of attack and counter attacks which went on for next four days and nights. As per the latest count the total death reported at 53 with scores still missing and admitted in hospitals with severe injuries.
The reports and video evidences of Delhi police being party of the riots, taking side of pro-CAA BJP activists have made it clear that the provocation of the violence was deliberate and pre-planned with active support of the state agencies. This is nothing new and neither the fact that like any other riots the perpetrators of violence remain the same; mostly young, unemployed youth with no clear prospects in near future. It may sound cynical but it is also true that most of the rioters and none of the leaders responsible for the mayhem will never be punished. These have been long established features of communal violence in India, a pattern which has grown more and more full proof particularly under the governments which have adopted unapologetic majoritarian stances. Nevertheless, Delhi 2020 may have certain unique characteristic features which could be signs of times to come.
Clearing of the road blocked by anti-CAA, NRC, NPR protesters at Shaheen Bagh and other sites is a declared a "national duty" not only by BJP leaders but also by the print and electronic media in Hindi. Since the very beginning of the protests against the sectarian and unconstitutional citizenship amendment act passed by the parliament in December 2019 Hindi media has created a frenzy around these protests and even called them inimical to the "national security" twisting the logic to establish that they are causing communal disharmony.
The media blamed the police to be working under pressure for not taking action against the protesters. For them left-liberals or in BJP parlance "urban Naxals" and "jihadis" are funding these protests. They almost called for violent response from the streets as responsibility to "save the country from these anti-nationals". Gun wielding youth and mobs were already mobilised to do it. So unlike in the past where the immediate cause of a "riot" was invented "spontaneously", media created the ground for "legitimate violence" in Delhi.
Hindi Media: Pillar of the "Hindu Rashtra"
Violent mobs, led by hired goons is nothing new in Indian history. In all the riots they have been used by a section of the ruling establishment to further their political goals. The criminal act has been part and parcel of Indian democracy with most of the liberal political outfits using it on occasions. However, it has been the RSS and its political outfits Jansangh then and BJP now which have used it systematically to cater to its larger agenda of a Hindu Rashtra where minorities will willingly take a role of a second-class citizen. Those who refuse this vision will be declared enemy of the nation irrespective of their religion. Violence against Muslim minorities is a tool used in various local, state-level and national level (1992-93) riots by the RSS to suppress them politically and economically and subdue them to accept their fate of a second-class citizen. Since its coming to power, it has used its penetration inside the state institutions to protect those who were found guilty in earlier riots and in fact, has now started rewarding some of them with state honours and administrative posts.
The police, administration and judiciary have been deployed to protect and help the rioters more explicitly than ever before now. However, one source, the media, has revealed a new and unprecedented role in the entire process of the creation of a Hindu Rashtra. In fact, it has become the most efficient source of creating a ground for the violence against the enemies of the nation. It has become a tool to promoting and legitimise the aggressive Hindutva. It has also emerged as the most efficient counter to any attempt to establish accountability of these riots. Today media is openly playing an active role in the violence.
This did not happen all at once. For decades now Hindi electronic and print media has used every opportunity to pitch all issues in communal and religious colour. All criminal activities from minor street fights between two young men to honour killing, gang war, rape etc have been communalised. The acts of terrorism, real or invented, can only be done by the Muslims. The way anti-CAA protests were termed a Muslim agitation despite the fact that in several states including Punjab where Muslim population is less than 2% it is led by non-Muslims, is a clear example of this trend.
It is not difficult to understand why Hindi media has been largely communal.
Liberal Democracy and majoritarian discourse
The myth of a secular nature of the market was demolished long back when consumerism in the neoliberal age trumped all post-colonial national projects. Market used religiosity and invented new traditions and consumption patterns. This trend soon seeped into the media too. One can debate the need of strong content control mechanisms, it is sure that absence made religious discourses, myths, one-sided narratives, and communal reporting easy and sure shot way to get popularity. TRP hungry so-called entertainment channels have been infected by this since long. One can also debate on the kind of effect it had on the audience; one thing is clear that this has played a significant role in creating a receptive mass for all kinds of religious bigotry. News channels soon realised the market potential of such simple methods and adapted to it fast.
Once there it was not difficult for most of the so-called News channels in vernacular and particularly in Hindi such as Zee, ABP, India TV, among several others to jump to adopt an aggressive nationalist narrative as their approach. The idea of "nation" is a commonplace idea of symbols intertwined with majoritarian sentiments. Owing to "competition" in the market these 24 hours news channels raced with each other to broadcast so called debates, news, and other infotainment programmes which is more "nationalistic" than the other. It was no wonder that most of these channels were soon co-opted by the media managers of the BJP with a clear agenda of spreading a particular narrative. Today with specialised channels such as Republic Bharat and Sudarshan News it is more than clear that RSS-BJP is using media to create a hegemonic discourse.
The use of the print media in communal polarisation, for example, the role of the local newspapers during the 2002 riots in Gujarat, has been well recorded. However, due to limited readership and due to physical limitations of circulation, print cannot compete with electronic media in its ability to create polarisations both in short and long terms. We have seen how RSS-BJP used video sources to further its agenda of communal polarisation during the so-called Ram Mandir movement in the early 1990s. This has also been well documented and researched. However, the role of the mass media, TV and social media in last two decades in particular has acquired a new dimension where there are no limitations.
Hence, in RSS's scheme of things, after the organisation, state and its machinery, media plays a very significant role in creating a Hindu Rashtra.
Mass Production of Hatred
Anchors like Anrnab Goswami, Dipak Chourasia, Sudhir Choudhary, Amish Devgan etc have often used their skills to give issues communal and religious colour. They have deliberately created islamophobia among the gullible masses who have no time to counter verify the information and opinions disseminated through their programmes. Clubbed with the existing social, cultural and political biases against the minorities a large number of 1.97 crore households in India who own a TV set and more than 30 crore smartphone users are readily receptive to these hate-filled, one-sided narratives.
The media in India creates the mass which is ready to "understand the need" of the violence and sometime even being "proud" of these acts. The reception received by the persons involved in lynched mobs, or the shooter of at Jamia demonstration is a clear example of this. This gives political formations like BJP strength to be unapologetic and aggressive in calling Muslims and all those who are opposed to its agenda as anti-Hindu and therefore anti-National.
It is this mass which gives the Lok Sabha speaker Om Birla the power to say that discussion over Delhi violence can wait till Holi is over. It is this mass which gives the Supreme Court Judges strength to say that they cannot do much to stop the violence. It is this mass which empowers the police to become unprofessional and be a party of violence. The interest of the fascist elite becomes an interest of the masses, Joseph Goebbels style. It is this mass which gives Prakash Javadekar guts to ban channels which does report their version of the story and blame the Anti-CAA, NRC, NPR protesters for the riots. It is this mass which helps riot instigator to pose as "peace agent" and take out a march in the heart of the capital shouting "goli maro salon ko".
Numbers matter in the procedural nature of liberal democracy. In India, TV channels with their reach to almost 84 crore individuals with added strength of WhatsApp and other social media sites can play the role of a massive propaganda machine which is almost impossible to counter particularly when it is actively supported by the state.
The direct and indirect control over these media houses by the people who are sympathetic to the RSS or BJP, economic windfalls of larger viewership, and set of anchors and journalists recruited by the RSS at different levels have all worked in creating the hegemony of the Hindu right-wing discourses does not legitimises the violence by the majority it also makes secular and minority led resistance look guilty. It makes the job of the complying courts and police easy. It legitimises the force and blatant manipulations in law to silence the voices of dissent.