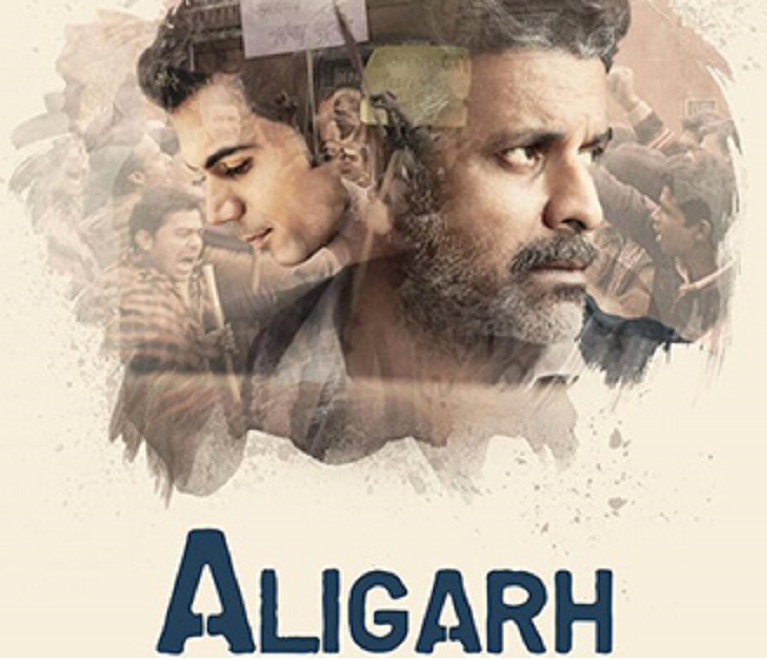 I am not a film critique.
I have liked films that critics have ridiculed, to my embarrassment- particularly
when I watch them on the big screen. Big screen takes away all my critical
faculties and mesmerizes me. It has to be of the caliber of "RGV Ki Aag" to
make me hate a movie I see on big screen.
But if a movie touches the inner core of my heart, I feel like penning
down my thoughts. 'Aligarh'is one such movie. Most of my friends had already
seen the movie while I was away, but when a very dear friend agreed to join me
putting aside all the household responsibilities on a Sunday afternoon, I was
elated.

I'm not writing down a formal
review of the movie but merely scribbling down my interpretations and observations
about the film.
'Aligarh' is based on a
true story of an Aligarh Muslim University Professor, Prof Srinivas Ramchandra Siras,
who was also an acclaimed Marathi writer of short stories and a poet. Siras got
the Maharashtra Sahitya Parishad award for his 2002 collection of poems –'Paya Khalchi
Hirawal' (Grass under my feet). On February 8, 2010 two men, hired by AMU
authorities, intruded into Prof Siras' house and video-graphed his personal
moments. The next day AMU suspended him for getting intimate with 'rikshaw
puller' even though their relationship was consensual.
Siras fought his case and
won it in Allahabad High Court, got his job back and accommodation. The case
was fought in the background of the historical judgement of Delhi High Court in
2009 which decriminalized homo-sexuality, which was ratified at the Supreme
Court in 2013. The landmark judgement was a resultant of a prolonged battle
against section 377, which criminalized sex among adults "against the order of
nature". Final judgement on the matter is under review at the Supreme Court of
India, while thousands of couples are being harassed on a daily basis for not
conforming to sexual stereotypes.
'Aligarh' is an immensely
political movie- albeit devoid of the usual prejudices. It has come at a time
when the country is redefining the meaning of freedom while misanthropy is
thumping his feet celebrating its imminent victory over reason. At a time, when
liberty is gasping for breath and values and prejudicesare intruding
increasingly into personal sphere, 'Aligarh' recites the narrative of a modern,
heterodox and liberal society and seeds the hope for a victory of humanity.
There are several scenes
and moments in the film, which have created a lasting impression in my mind.
The best moment about the film is when Prof. Siras engages himself in
translating his book in a busy courtroom- he finds enormous joy in creating
something. This is an ultimate depiction of the beauty of the human mind which
is indestructible. It sends an immensely positive message- the inner core of the
mind remains unaffected amidst personal difficulties and social humiliation.
The other moment of immediate connect is where Siras finds it unromantic to
typecast his deep desires and sensations into a three letter word (i.e. gay).
Manoj Bajpayee's portrayal
of Prof Srinivas Siras is a brilliant example of method acting- shows his
integrity to the work. The way he has depicted the various shades of emotions- his
vulnerabilities, his romanticism with loneliness, his understated strength, the
occasional anger and his non-conformation to sexual binaries with so much
maturity is unparalleled to Hindi cinema- at least as far my memory goes. Sirus'
love for poetry, his romanticism with LataMangeshkar's songs comes alive with
every dialogue Manoj utters and presents an old worldly charm.
A realistic presentation
is the strength of Hansal Mehta's cinematography. The way silences and pauses
have been used; scenes have been shoot in all real locations brings a lot of
freshness as well as shows his depth of understanding. It befits the gravity of
the subject. In fact when I came out of the theatre, the grandeur of the mall
made me feel like entering into "reel" from the "real".
Rajkumar Rao as the young
journalist Dipu Sebastian is refreshing. His oneness to the purpose- his
anxieties and passions- though a bit utopian to my matured mind- may be
infectious and inspiring to many who are on the better side of age. The bond
that develops between him and Prof Siras is quite unique. Both these brilliant
actors despite their differences in age have shown immaculate acting
credentials- whenever they have been together in a scene, it turns out to be
memorable.
Despite victory in the
case why does Prof. Sirus commit suicide? The ability of the director to leave
that question unanswered shows his strength and rare maturity- particularly
when it is a norm in Hindi cinema to make everything vulgarly explicit and
leave almost nothing to the imagination of the viewer. Thanks Hansal, for
having faith in the Indian viewer that they can also think!
Prof Siras fought and
lived to reclaim his dignity which he achieved through the victory. He wanted
his rightful place in the University he loved so much and served for decades.
He wished he could go to the US and live with dignity. There is still mystery
around his death- whether he committed suicide or he was killed. While those
questions remain unanswered and his life pauses, humanity transcends and the
eternal journey continues through its silences and pauses.