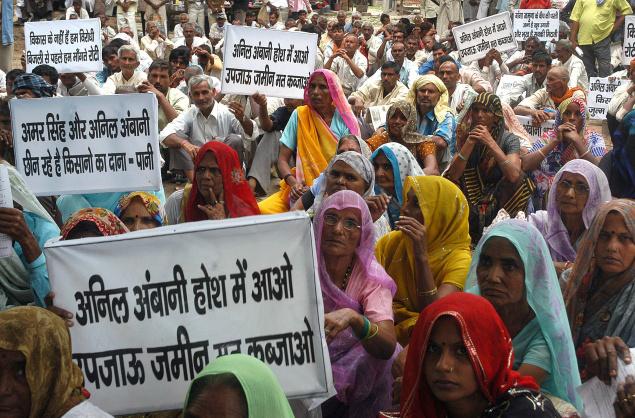 The rising demand
for land with the purposes other than agricultural activity including the
development of Special Economic Zones (SEZs), infrastructure development and
urbanization, etc. are restructuring the rural transformation and its political
economy. To fulfill these demands, land is being acquired from the
farmers/individuals which have put the agrarian question (vis-à-vis land
question) at the forefront in country's political spectrum and as well as in
the academia. The process, under which land is acquired for these various
purposes, historically, goes with the Colonial Land Acquisition Act of
1894. Though, the Act went through
several amendments at different times, but its original nature remained intact
(Verma, 2015). The original nature is sensed in such a way that the successive Central
and State governments under the clause "eminent domain" acquired land and
transferred them to fulfill demands from the public sector as well as the
demands from private land seeking capitalist agent/agency/firm etc.
Although, land
acquisitions for both public and private purposes took place in the
pre-economic reform period to set up heavy industries, development of
infrastructure, urbanisation and Export Processing Zones (EPZs), etc., but since
the adoption of market led development strategies (liberalization), the
acquisition of land has marked a significant increase. Apart from above
mentioned motives, land is also being acquired to develop liberalized

[i]


peripheries called SEZs (Levien, 2011; Verma, 2015). Unlike earlier, the
current sway of land acquisition is witnessing huge public opposition and is inviting
conflicts, protests and movements by the affected farmers/peasants. These
trends, many have seen as, the privatization of development through which
beneficial investment opportunities were provided to the capitalist classes and
have the enigma of privatize profits and socialize losses (Foster and Magdoff,
2008).
The land for the
SEZs is acquired by the Government based on the 'market rates' (which in
itself is a confusing term) from the farmers/individuals. The infrastructural
facilities for the development of SEZs are also provided by the Government, and
later on, the acquired land is transferred to SEZ developers (private
local/foreign investors) to develop SEZs. But under the SEZs law, only 35
percent (now increased to 50 percent) of the total acquired land would be used
for productive purposes. For the remaining half, the developers are free to use
for other purposes like selling it to different private investors for
commercial uses (building high rising residential colonies, constructing golf
courses, shopping complexes, schools and hospitals supported by corporate
conglomerates) which are pouring them windfall gains (Levien, 2011). But, on
the other side, through the processes of land acquisition, the farmers lost
their agricultural land and also lost agriculture as principal occupation,
compensated at some length, forced to migrate for an alternative means of
livelihood adding up to the already existing "reserve army of labour". Such
economic transformations, as Hobsbawm (1957) and Patnaik (2011) argue, are nearer
to the Western Europe's industrial revolution
when pre-capitalist producers were dispossessed and had been forced to seek
employment in the factories. The Western European model of industrialization,
many have argued that, it has exported the path of European agricultural/rural
transformation (agricultural question of North) to the Global South and has
also consequences of relation with the monopoly capital, militarism, loss of
environmental diversity and social and political upheaval (Harvey, 2005; Moyo et.al. 2013).
Thus opting for
such similar development trajectory of European style and roll back of the
State in India from directly protecting and promoting the petty producers (not
only the peasantry but craftsman, herdsmen, fishermen, handloom weavers and
other such producers) has provided enough space to private/corporate
capital (both domestic and international) to encroach and subjugate upon the
petty producers (Patnaik, 2016; pp. 47-48). In this backdrop, the paper would
try to understand trends, trajectories and their impact on farming communities
due to land acquisition especially for SEZs.
SEZs:
Empirical Evidences
Government of India enacted
SEZ Policy in 2000 and since then there have been a significant spurt in
approvals and notification of SEZs. Initially, there have been only seven EPZs
[ii]
controlled by
the Central Government itself which later on were converted to SEZs. There were
11 more SEZs
[iii]
established by
the State Governments/private sector during the period 2000 to 2005. The EPZ
established by the private sector in Surat (Gujarat) was converted to SEZ after the SEZs Act came in
2005. Since then, the Government has formally approved 420 SEZs out of which
351 have been notified, but only 218 SEZs (51.9 percent of the total approved)
are operational (see Table 1). Around 89 percent SEZs approved are
situated only in 10 states (Karnataka, Maharashtra, Telangana, Tamil Nadu, Gujarat, Andhra Pradesh, Kerala, Haryana, Uttar Pradesh,
and Madhya Pradesh). This pattern of SEZs development also clarifies that the most
of the units are concentrated in the states which have relatively better
infrastructural and industrial development and relatively underdeveloped states
are left out.
Table
1: State-wise Distribution of SEZs in India (as on 30th June
2017)
Notified
SEZs (% of formal approvals)*

Operational
SEZs (% of formal approvals)**
Source: Ministry
of Commerce and Industry (MoC&I); * & ** are author's calculation.
Sector-wise
Distribution of SEZs
The largest
segment of SEZs is under the IT/ITES/Electronic Hardware/Semiconductor/Services
where 274 SEZs are formally approved, 230 are notified (83.9 percent of the
formally approved), but only 126 of these approved (46 percent) are operational
(see Table 2). The second and third largest in number are SEZs under
Biotechnology (22 approved, but only 3 are operational) and multi-product (20
approved and all are operational). Under the agro-sector only 5 SEZs are
approved and out of these only 1 is operational. The sectoral divisions of SEZs
attribute the fact that almost every second unit of SEZs is established to
provide outsourcing services rather engaging themselves in physical production
activities.
Table
2: Sector-wise Distribution of SEZs in India (as on 30th June
2017)
Notified
SEZs (% of formal approvals)

Operational
SEZs (% of formal approvals)

Airport based multiproduct

Aviation/Aerospace/Animation
& Gaming / Copper

Building
prod./mal./ transport equipments / ceramic and glass

Electronic product/Industries

IT/ITES/Electronic
Hardware/Semiconductor/Serv ices

Light
Engineering/Metallurgical Engineering /Automotive Components

Petrochemicals
& petro./oil and gas

Pharmaceuticals/chemicals

Power/alternate energy/ solar

Writing
and printing paper mills

Granite
processing Industries and other allied machinery/ manufacturing
Source: author's
computation, Ministry of Commerce and Industry (MoC&I).
Table
3: Year-wise Notification of SEZs (as on 30th June 2017)
Percent
of total SEZs Notified

Percent
of Total Land Acquired
Source: author's
computation, Ministry of Commerce and Industry (MoC&I).
The data on year-wise notification of SEZs show that
almost 81 percent these notified SEZs and 88 percent of the total land acquired
for them was during the period 2006-09. So, these SEZs have got ample of time
to start (gestation period) their operations for the purposes they were set up
i.e. providing production of goods and services, generation of employment and
export promotion. But, looking at their performance in creation of jobs and
land use, it seems, the story is entirely different what it was expected (CAG,
2014). Looking at the Table 3, there is an indication that after 2009, both,
the notification of SEZs and acquisition of land for them have witnessed a
drastic decline? The probable answers could be, first, failure of the
government and the SEZs developers to utilize the acquired land and
subsequently, second, the eventual unrest and distrust in the form of protests
and movements raked up among the affected communities mostly by the peasants
and agricultural labourers due to unfulfilled promises, incomplete and
half-unfinished compensations. Few of these protests and movements against the
land acquisition that took place in the period 2005-10 include Singur and
Nandigram dispute (Hooghly and East Medinipur district, West Bengal), The
Relaince Maha Mumbai Special Economic Zone Project Dispute (Raigad district,
Maharashtra), Goa Industrial Development Corporation Dispute (Goa), POSCO
Dispute (Jagatsingpur, Orissa), Kalingnagar Land Dispute (Jajpur, Orissa),
Mangalore Special Economic Zone Dispute (Karnataka), Dadari Land Dispute
(Gautam Buddh Nagar, Uttar Pradesh), Kakinada SEZ Dispute (East Godavari
District, Andhra Pradesh), Brandix SEZ Dispute (Vishakhapatnam, Andhra Pradesh)
and DLF Land Dispute (Amritsar, Punjab). These protests forced the governments
(both at the Centre and States) to slowdown the process of notification of SEZs
and acquisition of land. The public
outrage led UPA II government to enact to the 'Right to Fair Compensation and
Transparency in Land Acquisition Rehabilitation and Resettlement (LARR) Act,
2013' which included clauses like social assessment and
community nod for land acquisition, development of forest land and also
developed a criterion of compensation to the affected communities (Verma,
2015).
Land
Acquired and Utilized for SEZs
Of the total
acquired land (48.99 thousand hectares) in the country, around 19.63 thousand hectares
(39.27 percent) are in use according to the information provided in the Rajya
Sabha on March 18th, 2015 by the Minister of State in the Ministry
of Commerce and Industry and the remaining land is lying vacant. Some studies
figure out that the actual land acquired being shown by the Government sources
is lesser than the extent of land that has been acquired by the developers for
the SEZs (Levien, 2011, CAG, 2014). The utilization of land for these SEZs varied
from zero percent in Delhi, Goa, Manipur,
Jharkhand, Nagaland and Puducherry to 88.0 percent in Telangana, followed by
66.57 percent in West Bengal. The states which
have higher number of SEZs (Karnataka (32.1 percent), Maharashtra (25.9
percent), Tamil Nadu (42.2 percent), Gujarat
(44.8 percent), Andhra Pradesh (40.2 percent), Kerala (37.7 percent), Haryana
(8.4 percent) and Uttar Pradesh (29.1 percent)) perform lowly in terms of
utilizing the acquired land (see Table 4). The acquired land is not being used
fully due to the reason that there may have been 'misplaced expectations and
wrong decisions of investments' by the developers who got several
concessions to develop SEZs, but could not attract the commercial clients
(Chandrasekhar, 2015).
Table
4: Land Acquired and Utilized for the SEZs in India
Source: author's computation, *Ministry of Commerce and Industry
(MoC&I) information as on 18th May 2016; **Chandrasekhar, 2015
The land acquired
under the public domain is transferred to SEZ developers or other private stake
holders. Here, again a mechanism develops through sale and resale of land that
converts it to a highly profitable form of commodity. If land is being used as
a commodity through multilayer sales, there also emerges a rentier capitalist
class (SEZ developers appointed by the government) or real estate developers
(Levien, 2011). These rentiers earn absolute ground rent
[iv]
or
imperialist rent through control on acquired land which earlier belonged to the
farmers (Patnaik, 2007; Amin, 2011). On the contrary, the peasants and
individuals whose land is acquired get only compensation though in official
language, it is termed as market price. The official market price is
underestimated and is normally based on previously listed sales prices over
several years which at most of the occasions are below the actual purchase
prices to avoid several taxes imposed by the government at the time of sale.
Thus, these artificially underestimated prices in the form of compensation are
far from real prices which in any sense must be according to the proposed use
value of land (Levien, 2011).
Even after a decade of SEZs Act passed by
the Parliament, only half of the total notified SEZs are in operation. The SEZs
were established with the primary objective of "export oriented manufacturing',
but every second unit among the SEZs is operating as service producing unit. Of
the total acquired land for the SEZs, around 60 percent is lying unutilized all
over India.
Also, the states which have higher number of SEZs perform lowly in terms of
utilizing the acquired land. Not only this, but for various other purposes,
like, urbanization, residential colonies, setting up of other manufacturing
units and highways etc.; we have no exact information how much land is
acquired, how it is being utilized and how the affected communities are
compensated. The Government is acquiring land as 'eminent domain', but all
these are being transferred to private developers who have changed themselves
into rent seeking agents through multilayer sales of land to earn absolute
ground rent. These methods of land acquisition and its rent seeking purpose
through commoditizing land have spread unrest among the affected communities in
many corners of India
inviting various movements against land acquisition.
Notes and References