A Teacher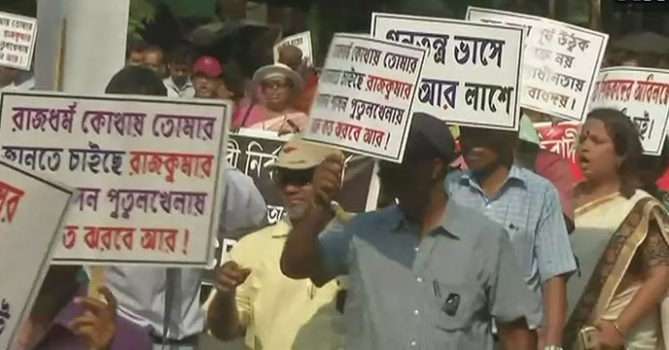 West Bengal witnessed a violent
Panchayat election this year. Among the several cases of casualty includes the
unnatural death of Rajkumar Roy, an Assistant Teacher, who was serving as a
Presiding Officer in a polling booth in the Balurghat region. After a long
time, West Bengal witnessed a huge participation of teachers, protesting
against the alleged murder of Rajkumar Roy. Interestingly, this time, quite a
few apparently apolitical teachers' forum took the lead. Moreover, social
networking also played a significant part in giving vent to several issues
relating to their profession, and also voiced against the lack of security that
they have to witness during every election. Thus, it would be wrong to suppose
that the incident of teachers' protest relates only to this seemingly killing
of an Assistant Teacher, during the poll time. Rather, this movement should be
viewed as an integral part of the discontentment among teachers, which had been
developing for the last few years. To address this issue, a detailed study of
the working condition of teachers serving in schools of West Bengal, is
needed.
The change in the political
scenario in Bengal following the Assembly Election (2011) was welcomed by
people belonging to various cross-sections of the society; needless to say, a
large section of teachers engaged as Assistant Teachers in different Government
Sponsored(Government Aided at that time) were among them. The newly elected
Chief Minister announced that it would ensure salary at the beginning of the
month. This was an issue, which had been persistently raised by leftist
teachers' associations since the early seventies. However, despite having taken
many positive steps, this particular demand remained unfulfilled during the
period of Left Front government. Thus, the new government's role in ensuring this
legitimate demand of the teachers gained support from teachers teaching in
Government and Government Sponsored Schools in Bengal. However, as time rolled
on, a section among them, who had earlier jubilantly accepted this political
change, were shocked to trace certain changes that were affecting their working
environment. And no doubt, after the completion of one electoral term, the scenario
of schools in West Bengal is far from being satisfactory. Relying upon doles as
the chief weapon for ensuring electoral victory, the ruling party has dished
out a plethora of policies of distributing among students gifts like bicycles,
bags, shoes etc.

Schools have become a
centre for distributing such gifts to students. For the last five years, only
once the government could successfully conduct the School Service Commission
examination properly. In most of the cases erroneous panels are creating legal
problems; this has caused an unending delay in the recruitment process. As a
consequence, scarcities of teaching faculties are a common problem that can be
noticed in many schools. In many cases, there exists a disproportionate and
irregular staff pattern. The recent pathetic incident of two students' death in
police firing in Islampur may be recalled, in this context. The school, which
had quite a few vacant posts, was forced to accept the appointment of an Urdu
teacher and a Sanskrit teacher in the Higher Secondary level, where there were
no such demand for such recruitments. This was the cause of the students' protest
that took the lives of two ex-students of that institution.
It is the general belief of our
society that, only a private school can ensure the future of the students. The
impact of this notion can be traced among people belonging to a large section
of society. Nowadays, even people belonging to a financially weaker section of
our society leave no stone unturned to send their children to private schools.
Owing to this hegemony of our society, in which the media plays a significant
part, private schools have mushroomed not only in Kolkata, but also in rural
areas of our state. Arbitrary changes in the curriculum, the inclusion of
no-detention policy in Secondary schools till class VIII, a policy, which has
already created diverse opinion among the policy makers, as well as its
implementers, the teachers, have also contributed to this sickening condition
of schools in Bengal.
Sadly, when the government is
incapable to take positive measure for the betterment of these schools, in most
cases, teachers are being made liable for the degeneration of School education
in Bengal. Very recently, the government has implemented new rules and has
brought out certain changes that will have a significant impact upon the
working condition of teachers in Bengal. For instance, the government has introduced
compulsory transfer of teachers and non-teaching employees of Government
sponsored and Government aided schools in Bengal (No.227-ES/S/1S-4/95
Date-12.03.08).

If teachers belonging to
a sick institution are being shifted to nearby schools, nothing is to be
objected. However, uncertainty looms large, whether such measures will be
implemented or not for political purpose, to infuse terror among teachers, who
are supporters, or sympathizers of other political organizations. The
repressive measures already taken by the government to ensure cent percent
attendance on the day of a general strike gives us the indication that the
abuse of such laws may likely to take place. In view of a recent strike called
by opposition parties on 26th October, 2018, the Government of West
Bengal took a drastic measure and declared that no casual leave would be
granted on the day of general strike. Further, it was also communicated that no
leave would be granted on the preceding day of the bandh, and also, on the
following day of the bandh (No. 6159-F (2). Apart from taking strict measures
to ensure the allegiance of teaching and non-teaching employees, like other
government employees on the day of a general strike, the government has also drafted
certain rules relating to the confirmation, conduct and discipline of teachers
and non-teaching employees working in a government sponsored school in West
Bengal. The said document has been published in the Kolkata Gazette (November 10, 2017). A close reading of the rules
published in the draft can well establish the fact that, behind the apparent
sincere motive of disciplining employees associated with teaching in
government-sponsored schools, there is the keen intention to overpower them, to
keep them under surveillance, and even to instill fear among teachers and
non-teaching employees in order to win their allegiance.

It has been stated in that
draft(No.986-SE/S/IA-10/2017) that before confirmation in the post of a teacher
or non-teaching staff, the appointing authority must verify the character and
antecedents of the concerned person through appropriate branches of the Police
force. Further, in the sub clause no.4.5 of a section of the draft (No.984-SE/S/IA-10/2017),
it has been stated that an Assistant Teacher will require a permission of his
appointing authority in order to undertake writing or publishing a book by him,
or as a co-author.

Also, it has been
stated that before taking any legal action against the Board, the person should
provide the concerned authority a scope to solve the problem (4.22). In his
letter to the Principle Secretary of Government of West Bengal, Krishna
Proshonna Bhattacharya, the General Secretary of A. B. T. A., a leftist teachers'
association, has rightly pointed out that the sub-clause 4(5), which puts
restraint on the teachers' right to write and publish, should be abolished (Siksha O Sahityo 35).
Why the government is so keen on
imposing a bundle of restrictions on the teachers? Do we not notice a paranoiac
reaction on the part of the government that is determined to nib into the bud,
any voice of protest? I would once again refer to the letter of the general
secretary of A.B. T. A. in this context. He has rightly pointed out that in the
draft; an extra-ordinary power has been bestowed on the Board to control the
secondary education system in West Bengal. He has also pointed out that in the
draft little importance has been given to democratically elected bodies like
the Managing Committee of the school.
Now coming back to our earlier
issue, i.e., the discontentment among teachers and movements of teachers
following the unusual death of a teacher during poll- time, we can conclude
that the spontaneous protest that followed was not an isolated issue; it must
be viewed with reference to the general degradation of teaching environment
that has affected all, who are engaged in this profession. The advent of
teachers' forums over the internet, the eagerness to know each other, and to
share their cause of woe, give us the opportunity to delve deep into the past
and to remember the struggle of men and women, who were engaged in this
profession. We must remember the struggle of those teachers who pioneered in voicing
their legitimate demands, before and after the country's independence. It would
not be irrelevant here to cite a document included in the West Bengal State Archives
(I. B.). The document entitled Teachers'
Associations & Conferences in Bengal includes a report on the 10th
Teachers' Conference that was held at Narayangunj, in Dhaka, in 1929. It is interesting
to note that more than demanding enhancement of salaries and other financial
benefits, the conference gave emphasis on giving teachers an opportunity to
frame their curriculum. They voiced in favour of keeping adequate
representation in the Text Book Committee.
We must not forget that at that time, most of the schools were run by
local landlords, and the service security of a teacher was beyond their
expectation. Nevertheless, a close reading of this document can testify the
courage of the teacher, who took part in the movement and raised their
democratic rights (157/29).
A baby that stops crying remains
unfed. So goes a Bangla proverb. With the change of academic environment in
Bengal, it is once again organized teachers' movement that can ensure their
democratic rights, and can meet up their professional requirements.
Works
Cited
"Wife of slain presiding officer
Rajkumar Roy calls his death cold-blooded murder". India Today. 17 May 2018. Web.
"Death toll in police firing in
Bengal rises to two; bandh hits normal life". www.hindusthantimes.com.
21September 2018. Web.
Govt. of West Bengal. School
Education Department. Compulsory Transfer
of Teaching/Non-Teaching Employees.
227/-ES/S/1S-4/95. Salt Lake City, Kolkata: 12.03.2018. Web.
Govt. of West Bengal. Finance
Audit Department. Treatment of Absence on
26.09. 2018. forBandh/Strike. Nabanna , Howrah: 26.09.2018. Web.
Govt. of West Bengal. School
Education Department. Draft Rules.984-SE/S/1A-10/2017. Salt Lake City, Kolkata: 10.11.2017. "Sikha
O Sahityo". January 2018. Print.
Bhattacharya, Krishna Prosonna.
"To Sri Dushant Nariala".07.12.2017. Sikha O Sahityo". January 2018. 35. Print.
Teachers'
Associations & Conferences in Bengal. I.B. Records of the State Archives. Govt. of West
Bengal. F.N. 157/29.
The author is government school teacher in West Bengal