Y. Kuruvilla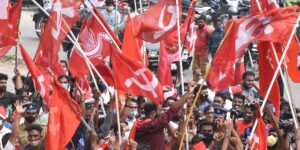 On January 30, 2020, Kerala recorded the first Covid-19 case in India. On April 6th, Kerala voters will go to cast their votes for choosing their next government.  There has been clear shift in favour of CPM led-Left Democratic Front (LDF) within this period among voters as a result of the strong performance of the government in tackling Covid-19 pandemic, ensuring of timely welfare measures and completion of long pending critical infrastructure projects in the state. The elections to local governments held in December 2020 provided a clear pointer to where the political wind is blowing after LDF swept all levels of local governments. Let us look at the critical aspects of the political situation in the state which puts LDF in pole position to return to power on May 2nd when votes are counted.
Results of Local Government Elections 2020: Indicator of the political mood
Since 1995, elections to local governments in Kerala have been held regularly every 5 years, a rare occurrence among Indian states. The local elections usually are held six months before assembly elections and therefore can be a gauge for understanding the political mood in the state. Last two local governments elections held in 2010 and 2015 foretold the change of government in assembly elections of 2011 and 2016.
In 2020, the local government elections were being held in the shadow of Covid-19 pandemic. LDF showcased the performance of the government as its main appeal to voters. Both the Congress and BJP used the allegations of gold smuggling against officials of government and appealed to voters to punish the government. These allegations received full hearted support of media outlets. In between, BJP used several central agencies such as ED, CBI and NIA to open multiple investigations into government projects. Even the CAG was used to criticize KIIFB, a government development finance institution for borrowings from abroad through masala bonds, which was approved by Reserve Bank of India.
The results of 2020 local elections surprised the opposition and media. LDF swept all levels of local governments including municipal corporations, municipalities, district panchayats, block panchayats and village panchayats. It is for the first time since 1995, that the ruling coalition has managed to improve its position in local government elections. The fact that this thumping result for LDF came just 4 months before the assembly elections sent alarm bells ringing for Congress led United Democratic Front (UDF), the main opposition which had won 19 out of 20 seats in 2019 Lok Sabha elections.
The BJP also saw a mixed picture with decline in its vote share compared to Lok Sabha elections 2019. However, it saw an increase of influence in certain pockets of the state mostly at the expense of UDF. It also failed in its to get control of municipal corporation of Thiruvananthapuram, where it was main opposition.
The results provided LDF the confidence that people had responded to welfare and development initiatives and programs of the government by giving it a massive mandate in local government elections.
Stellar Performance of LDF Government: Alternative Development Perspective and Policies
When the LDF government took power in May 2016, it had to take massive steps to lift the economy and improve governance due to misgovernance of previous UDF government. An example of this misgovernance was dues of welfare pensions which had not been paid for 18 months. The LDF government paid the dues and ensured monthly payment of welfare pensions to an increased number of beneficiaries. The pension has also been increased from Rs.600 to Rs.1600.
LDF has bought an alternative development perspective and policy framework for governance of Kerala in response to neo-liberal policies followed by both previous UDF government and BJP led Union government. These included massive public investment in education and health sectors, supporting public sector units to improve productivity and protect their workforce, protection of traditional economic sectors such as coir and cashew, reduction of corruption and improve utilization of public funds, ensuring timely completion of critical infrastructure projects and guiding private investments in areas which utilizes Kerala's unique strengths of human development and environment. The government has paid special attention to ensuring economic and social mobility of scheduled castes and tribes and fisherfolk communities to ensure equality and equity. The government has further strengthened local governments by enhancing their financial and human resources. This was demonstrated by the role played by local governments in frontline of dealing with natural calamities and Covid-19 pandemic. A key LDF policy has been to advance and use the existing universal public distribution system effectively to ensure hunger is effectively tackled and households can be supported in meeting their nutritional needs. This is in key contrast to central government policies that aim to exclude more number of people from PDS system. 
The LDF government had to face multiple crises including natural disasters such as massive floods in 2018 and 2019, Nipah virus health crisis in 2018 and global pandemic Covid-19. The performance of the government in dealing with such crises is the main reason why LDF looks set to return to power in 2021.
The effective and timely provision of relief in terms of cash transfers, rebuilding of housing and infrastructure affected by natural disasters and strengthening the capacity of public health system to deal with Covid-19 pandemic, opening of community kitchens and provision of free food kits during the pandemic to ensure that no person goes hungry due to pandemic and crisis of lockdown  has demonstrated to people of the state how a government can proactively lead in crisis management while ensuring welfare of the people.
Even in face of adverse economic situation as result of pandemic, LDF government has ensured that massive infrastructure projects including upgradation of public education facilities such as smart classrooms, enhancement of public health services at community and local levels, improvement of road infrastructure including important flyovers and bridges, creation of sports facilities and completion of long pending projects such as GAIL pipeline, improvement and widening of road and water transports have been completed or are close to completion. The government has supported state public sector units to enhance productivity and enter to new areas such as electric autos, railway wagon building and so on. LDF government has also provided massive support to start-ups and has been ranked as the best state for promotion of startups.
It has ensured top priority to welfare measures and expanded the social safety nets. These steps have been praised nationally and internationally while ensuring support from sections of the society that hitherto did not politically support LDF. LDF government has implemented 580 out of 600 promises of LDF Manifesto 2016 which would be a record for any state in Kerala.
The visibility of development and welfare measures of the government to every household of the state means that allegations and media campaigns orchestrated by both UDF and BJP against the government have failed due to lack of support from people. Hence, the opposition is on the backfoot while facing 2021 Assembly elections.
Resisting the Threat of BJP
Kerala is the last frontier for BJP in terms of growth. In 2016, BJP could enter state assembly from Nemom assembly seat where UDF came in third position after losing votes to BJP. The Sabarimala agitation after the Supreme Court verdict allowing women from ages 10-50 to enter the shrine was expected to help BJP as a major pole in state politics. However, it did not help BJP in 2019 Lok Sabha elections with the party failing to win even one seat in the state. However, there is no denying the growth of BJP in certain pockets especially due to shift of upper caste voters from Congress to BJP.
In 2019 Lok Sabha elections, UDF won a historic victory winning 19 out of 20 seats. The voters in Kerala then decided that Congress led UPA was best positioned to defeat BJP at national level and form an alternative government. But results of Lok Sabha election proved to be major disappointment to voters in Kerala. Congress proved to be an ineffective opposition at national level which was revealed in its muted opposition to Citizenship Amendment Act and abolition of article 370. The Congress is unable to offer any alternative policies and is organizationally weak to counter Sangh Parivar on the ground. This is also a major issue for voters especially those who supported Congress in Kerala in 2019. The strong opposition of Left to these steps at national and state level and strong criticism levelled at anti-people measures of central government by state government has seen a shift of anti-BJP voters to LDF in Kerala.
The clear response of LDF government to national government on matters such as CAA, agriculture reforms, encroachment of powers of states and squeezing of financial autonomy of states has made sections of UDF voters unhappy with ineffectiveness of Congress at national level and UDF at state level in resisting BJP choose LDF as an option. This shift is increasingly worrying UDF.
Victory in Kerala for LDF: Boost for Resistance to Sangh Parivar Agenda
In Kerala's political history, no incumbent government has returned to power in Kerala since 1977 which was before the establishment of strong coalitions LDF and Congress led United Democratic Front (UDF). The LDF has an opportunity to create history. Its record on development and welfare and visible gains on both these aspects over the last 5 years places it in an ideal position in front of voters of Kerala. It has placed a 900-point manifesto in front of the people with focus on economic transformation of state with specific policies on higher education and employment based on higher public investment and encouraging private investment to boost productivity and build on strengths of the state in human development and environment.
The politically astute voters of Kerala will find LDF as the best political alternative for better governance and development of the state. A victory in Kerala for LDF will give a boost for Left and democratic forces to lead the fight against anti-democratic steps BJP led NDA government and to resist the trampling of democratic institutions and cultural fascism of Sangh Parivar.
The author is an independent researcher working on issues of local politics and governance in Asian region